September 2015 - Anne Feeney's Fellow Travelers' Advisory - Volume 10, Number Four
THEN, on to SWEDEN - a tour with Jan Hammarlund
with Jan Hammarlund in Stockholm 2010
Saturday, September 5th, 2015 2:00 PM
Joe Hill Centenary
Sugarhouse Park


1400 E 2100 S
Salt Lake City, UT` 84106
I'll also be participating in some workshops. Look at your program for details
Saturday, September 12th, 2015 7:30 PM
Anne Feeney and Jan Hammarlund
Nyatrols


Karlskronaplan 1
Malmo
https://www.nyatrols.se/
Vansterdagarna presents
Back to da 'Burgh with two exciting shows in October!!
SOUNDS LIKE FUN TO ME!!  SEE YOU THERE!!
                              Saturday, October 17th, 2015 2:00 PM
The Pittsburgh Chapter of the Industrial Workers of the World Presents
The Joe Hill 100 Roadshow - with  Mike Stout Band, Smokestack Lightning and Anne Feeney
The Pump House at the Waterfront


Homestead, PA
https://iww.org
Price: $15/25 suggested
No one turned away for lack of funds
Come to Ireland with me May 1-10, 2016
Seats are going fast for the 2016 tour of Dublin, Cork City and Ennistymon, County Clare in my beloved Ireland.  See the real Ireland at Ireland's pace.   Our luxury coach accommodates 33, but we limit the tour to 24 so that there is a sense of spaciousness on the tour.
I'm running out of time to get this newsletter out. I posted a more detailed description of the tour last month - Please feel free to contact our fabulous liaison, treasurer, and oracle, Vicki Belinoski - vbelinoski@austin.rr.com to reserve a seat or get more information.  Also, my August Fellow Travelers' Advisory is available at https://fellow-travelers-advisory.blogspot.com/ and includes a lot more of the tour details.  
Some highlights from last month
THIS FABULOUS SHOW RAISED ENOUGH MONEY TO "BRIDGE THE GAP" FOR PAM PARKER
Posted on Facebook by JOHN NICHOLS right after the show!!

The great @annefeeney singing labor songs@APWUnational Postal Press Association in Madison.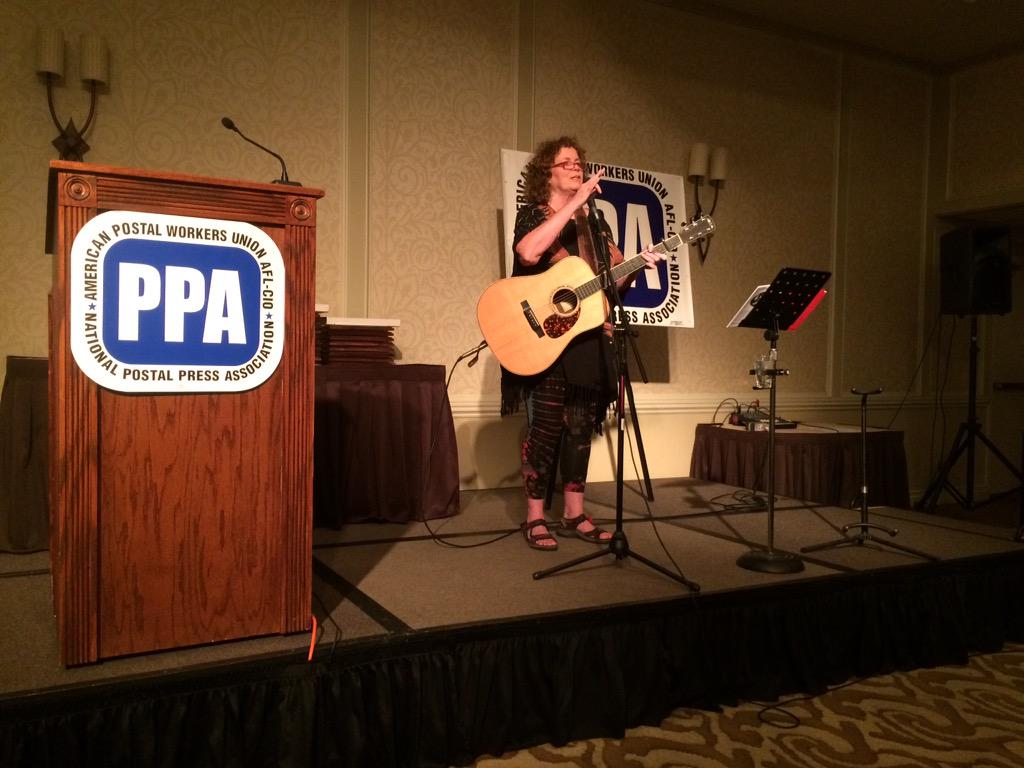 I HAD A GREAT TIME AT THE POSTAL PRESS ASSOCIATION CONVENTION IN WONDERFUL MADISON WISCONSIN!
Still cute....
NICO WITH ICE CREAM!
SEBASTIAN ON THE INCLINE!
That's all for now... Thanks for being part of my network of family, friends, folkie and fellow travelers.  I could not do this without you! See you in October!!
Buy CDs at https://cdbaby.com/all/unionmaid